A Brazilian Cubesat mission,
developed by university students.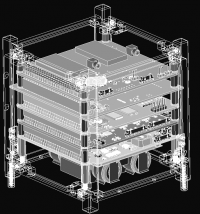 FloripaSat-1 is a technology demonstration mission entirely developed by SpaceLab students at the Federal University of Santa Catarina (UFSC), Brazil. It is cube-shaped satellite made of 5 modules. There the core modules for the mission control and the payloads. The core modules developed at UFSC are the On-Board Data Handling (OBDH), the Telemetry, Tracking, and Control (TT&C), the Electric Power System (EPS), and the passive Attitude Control System (ACS). The payload is an amateur radio repeater, which can be used all over the globe in emergency and rescue situations, for instance.
Introduce to the community the "new space" concept, which enables a more efficient and lower cost development if compared with processes used in traditional satellites.
In-orbit validation of a multi-mission platform that can be reused on satellites developed by other academia and industry groups.
Provide amateur radio relay station service to respond to emergency events in areas without coverage of the cellular network (oceans, rivers, forests, deserts, among others).
Human resources training in a high value-added knowledge area, and at the technology frontier. Engineering students receive training in the design, design, implementation, integration, testing and operation, that is, at all stages of a complete space mission.
Knowledge acquisition to support the development of missions using FloripaSat technology, both in the design stages and in the operation of satellites.
Strengthen Brazil's participation in the world space scenario, especially in the "new space".
The "Electric Power System" (EPS) is designed to capture, store and distribute power to other FloripaSat-1 modules.
The power capture system is based on the conversion of solar energy through six panels located on each face of the satellite structure. The captured energy is stored in two series-connected lithium batteries. From decision-making algorithms, the other satellite modules are fed according to the available battery power at a given time. EPS plays a key role in energy management at different times in orbit, such as when the satellite is in eclipse, with the earth covering the sun.
"Telemetry, Tracking and Command" (TT&C) is responsible for satellite communication with the terrestrial segment. The module is divided into two sub-modules: "Beacon" and "Main Radio".
"Beacon" transmits periodic signals containing satellite identification (ID) and basic telemetry information.
"Main Radio" is responsible for receiving remote controls from a control station located on Earth (in this case at the UFSC), and send responses via telemetry. Received remotes are forwarded to OBDH, which performs decoding and the requested processing.
"On-Board Data Handling" (OBDH) is responsible for synchronizing actions and data flow between satellite modules (eg, EPS, Payloads, …) and the ground segment.
OBDH packs the generated data, and stores it in nonvolatile memory for sending to the ground station as soon as possible (when the satellite is passing over UFSC, or over a partner's ground station).
The remote commands sent by the ground segment are received by TT&C and sent to the OBDH which decodes and performs the necessary actions, sending the actions to the other modules if necessary. This allows communication between the entire satellite and the earth.
Satellites are exposed to radiation that can cause temporary and even permanent damage to their subsystems. There are some components that are made to be immune or less sensitive to the effects of radiation.
Payload-X has an FPGA made to resist radiation. This component will be tested for the first time in a space environment on board FloripaSat-1.
Payload RUSH was developed at UNSW University in Australia.
First developed to validate a new approach to reconfiguring unique disturbance events due to solar radiation in reconfigurable logic circuits. This payload has an FPGA as the test circuit due to the ratio of logical density to power consumption.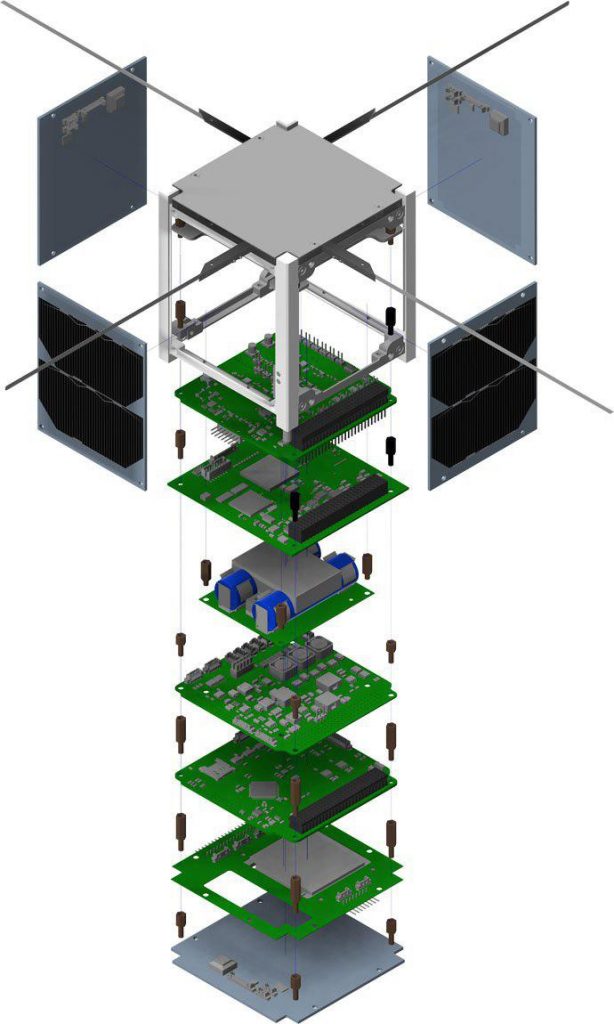 institutional support and PARTNERS
Communicate with FloripaSat-1
FloripaSat-1 is in space! Visit the page and see how to communicate with the satellite via radio.
Our mission is Open Source
All documentation and codes used are available on GitHub. The final version is only available in English.
Meet some of the people who made this mission possible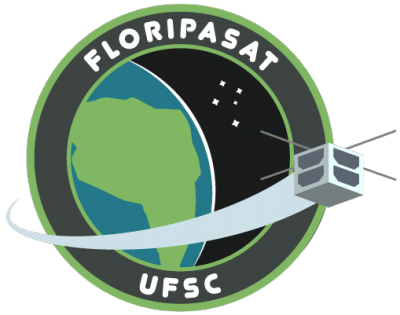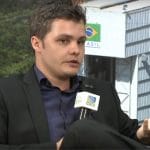 Chat about Brazilian satellites and their applications in Brasilia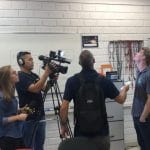 FloripaSat-1 is on the news!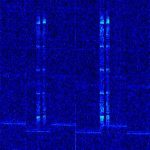 FloripaSat-1 is in space! First signals already detected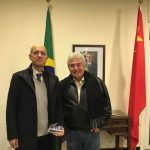 Minister of Science and Technology follows CBERS-04A and FloripaSat-1 launch campaign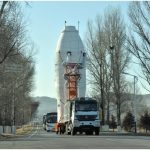 CBERS 04A transported to launch tower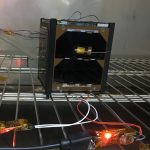 Thermal cycling test FloripaSat-1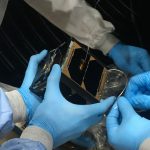 FloripaSat-1 bakeout test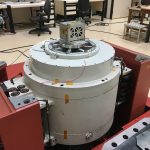 FloripaSat-1 vibration tests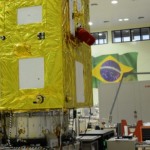 FloripaSat-1 and CBERS 04A comparision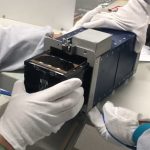 FloripaSat-1 launch postponed and arrival at China
The FloripaSat-1 mission has finished its development and integration phase, but our work is not over yet.
Follow the SpaceLab lab to see recent activities from future space missions and group-led projects.
Contact us if you wish to join!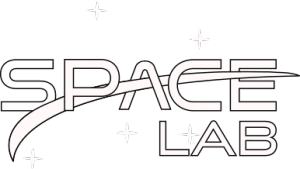 @ 2019 SpaceLab UFSC – Space Technology Research Laboratory, Federal University of Santa Catarina