The first month of FloripaSat-1 was full of observations. The satellite is working after more than 30 days in orbit, a huge milestone for all team involved in the mission. Check the SatNOGS page to see the most recent and older contacts since the launch.
We have gathered here some of the contacts shared on the internet.
FloripaSat-1 1k2 GFSK beacon packets seen (!) 1449utc but @ only 12°, too weak to decode. Next pass is better. Also TX'd blind for CAS-6, but nothing seen on 2m linear transponder downlink so far out over the Atlantic pic.twitter.com/mRikdtv2dI

— Scott Chapman (@scott23192) December 20, 2019
The decoding of FloripaSat-1 has encoutered some setbacks. Daniel Estévez EA4GPZ has writen about the decoding and we are working to improve the actual and future mission to come. Check the full text by clicking here.
We have received many recorded audios from FloripaSat-1 in our email from all across the globe. Our QSL cards can be seen in our ham radio info page, if you want to receive your own follow the structions on the page.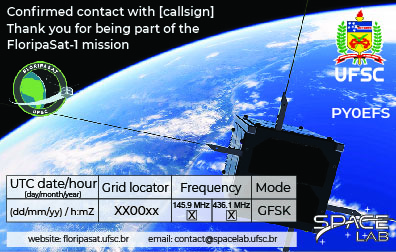 Our QSL cards comes in 3 different versions with different photos on the back, if you prefer one of them let us know.
You haven't captured the signal yet and feel a little lost on how to do it? Follow our step by step guide in how to capture the beacon signal, the doc is available to anyone in our Ham Radio info page.
We look forward to inform new updates from FloripaSat-1 and SpaceLab laboratory opportunities.

@ 2021 SpaceLab UFSC – Space Technology Research Laboratory, Federal University of Santa Catarina